Visual Arts Exhibition Union Station Review by Mugur Geana
All aboard!
No, not on a train (although we are at Kansas City's Union Station), but on an artistic journey, guided by the artists presenting their work at the 2019 Fringe Festival KC Visual Arts Exhibitions. This year's display has some entries worth mentioning. The Visual Arts Exhibitions,  at Union Station and at the Arts Asylum, have a record number of participants (38), and a record number of gallery pieces on display (too many to count). There is also a significant increase in the diversity and depth of the presented art, driven mostly by newcomers to the Festival, but also by "seasoned" event artists who have challenged themselves to explore new things.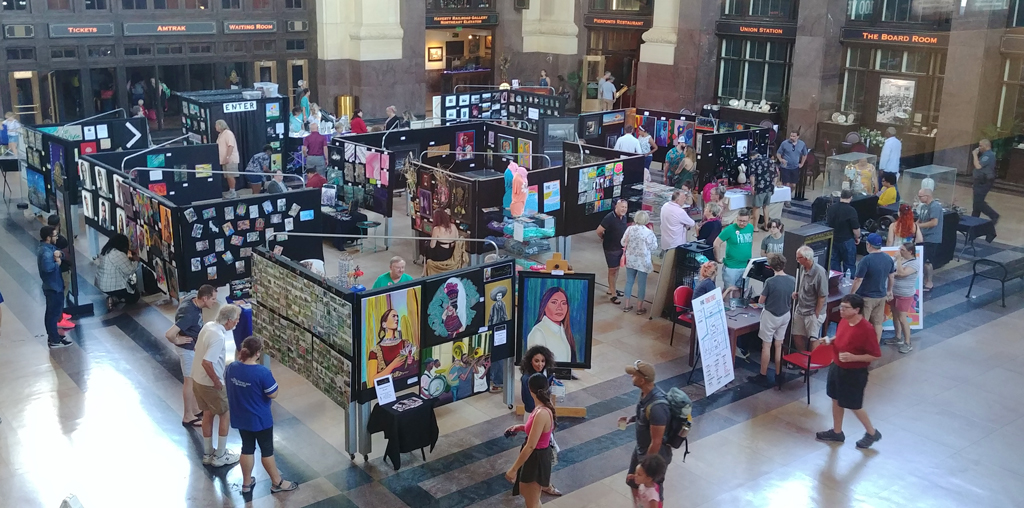 The 2019 Fringe Festival KC Visual Arts Exhibition in the main hall at the Union Station (Photo by Mugur Geana)
It should be noted that the Festival has done an excellent job of showcasing all the artists in the Visual Arts section of the Festival program (pages 15 to 29). The program is available for free at Union Station and Fringe performance venues– do not enter the exhibition without it! A bonus for those attending is that some of the artists will be in attendance as well, so you'll have the chance to talk with them, inquire about their creative process and, who knows, maybe walk away with a newly purchased work of art for your home. Among Kansas City's artistic events, the Fringe Festival is unique for its vibrant performing arts scene. This year, maybe for the first time, that same energy exudes from the exhibition at Union Station. It may be hard to imagine static art displays as "vibrant" but that is exactly the magic that happens here. Look no further than the center of that exhibition, where selected pieces compete for your votes to receive this year's Fringe Prize.
Works of art competing for peoples' choice 2019 Fringe Festival (Photo by Mugur Geana)
One of the most delicate and powerful art pieces is the creation of the young sculptor Tyler Marble. The ensemble of foam and metal surrounding a fragile dandelion (yes, it is a REAL dandelion) is an ode to the ephemeral nature of our thoughts, as well as to mankind's everyday aspirations to overcome barriers and expand horizons. Art is one of the tools for that. Tyler's inspiration comes from within and expresses through an interesting use, and repurposing of scrap metal and other found objects. Highly decorative, his sculptures also have a deep meaning that is worth exploring. You should stop and ask the sculptor about it.
Sculptor Tyler Marble showcasing one of his works combining composite materials, metal and glass (Photo by Mugur Geana)
For visitors attracted to three-dimensional art the offer is plentiful and exquisite. Porcelain is the medium of choice for artist Melania Sherman, who manages to further enhance its fragility through incredible painted decorations. Rodrigo Alvarez creates a strong statement for the impact of humanity today on the world with his organic sculptures.Metal and wood are used to model and enhance light in Carol Branson's creations. Jewelry abounds, and you will certainly find something to further cherish in the original creations of Letoya Goff, and in the award-winning designs of Lisa Coyan and Barbara Schilling.
Works of art by Melania Sherman on display at the 2019 Fringe Festival KC Visual Arts Exhibition at Union Station (Photo by Mugur Geana)
Paintings are everywhere at the exhibition. The variety of styles, mediums and creative vision is staggering, and enhances the visitor's experience. Like looking through a kaleidoscope, every time you turn towards a different display panel you are welcomed by an explosion of distinct ideas expressed through colors and brush strokes. Notable are the shiny, poured paint works by the nurse-turned-artist Toni Kirk. Her paintings have a surreal, almost therapeutic undertone, and the visual punch of her strong color palette is an eye pleasing experience. If pastel colors are calling to you, do not miss the uplifting works of Susanne A. Szippl. Her art, done in acrylic paint, has a watercolor quality that I found intriguing and marvelous at the same time. Nicole Brinkman uses plywood as her canvas. Strong lines and colors make for well-defined graphics, ones that also herald the beauty of the underlying wood through the use of ample negative space. Self-expression, introspection and curiosity seem to guide the strokes of artists such as Katheryn Krouse, Daniel Baxley and Alana Gwinner. Tenacity definitely drove painter Sara-Engman-Slaughter 
in creating her series of daily miniatures. Her display at the looks like pages torn out of a diary, each of them either conveying a mood or an idea while leaving their meaning open to your imagination.
Miniatures by Sara-Engman-Slaughter on display at the 2019 Fringe Festival KC Visual Arts Exhibition at the Union Station (Photo by Mugur Geana)
Often dismissed as simple reflection of reality, photography seems to want to break that image (!) at this year's exhibition. But not all of it: Street Photography is taken back to its practical definition by the works of The Road Crew (Joe Bussel, Bryan Colley, Jim Nommo, Alexej Sevreux, Greg Thonen, Cindy Tsutsumi, Brian Turner, and Sandy Woodson). Their collage of photos taken on one single day along the newly renamed Dr. Martin Luther King, Jr. Blvd. serve as a memento of the 2019 summer. The quest of capturing the moment is obvious in the work of Eric Klamm, either on the streets of Kansas City, or in less paved places. Photographer Roger L. Cissner comes back this year with a selection of his majestic landscapes, showcasing the pristine beauty of nature. Pushing photographic boundaries is something usual for Carl D'Amico.  A staple of the KCFringe Festival, Carl has outdone himself this year – his experimentation with digital filters and composite imagery has created some memorable visual works, some of them on display. Look for his "swan" collage or his "heron" series.
Carl D'Amico next to one of his composite images on display at the 2019 Fringe Festival KC Visual Arts Exhibition at Union Station (Photo by Mugur Geana)
Each and every artist has something different to offer to Fringe audiences and visitors to these exhibitions, making it a part of the Festival that should not be missed. Stop by before the official opening of the Festival on July 19th. Come to Union Station, grab a program, look around, enjoy the art, and chat with the artists. You will not be sorry you did! Fans of reality TV are sure to enjoy the "Iron Artist" competition, to take place in the Post Office hallway at Union Station, July 21st, 2:30-5 p.m. Fringe Visual Artist competitors are given a box of art supplies and a "mystery ingredient." A family-friendly free event, the audience watches the artists use their creativity to make an original work of art. The audience votes for the best work and the winner is awarded the Iron Artist Prize. For those interested in more avant-garde and risqué art, the "Fringe with Benefits" exhibition will run at the Arts Asylum. Some  NSFW (Not Safe For Work) art is on display. Leave the children at home.